Transparent Stone Bonding Adhesive
Brand : MAGPOW
Product origin : China
Delivery time : 25-35 DAYS
Supply capacity : 100 TON/MONTH
[Applicable Scope]
The Transparent Stone Bonding Adhesive is applicable for the bonding and repairing and bonding stones and table plate edge making, and also good bonding ceramics, metals and concrete.
[Performance Characteristics]
1660 Transparent Stone Bonding Adhesive is the two-component, temperature curing modified epoxy adhesive. The adhesive has transparent layer and has advantages of high adhesive strength, good water resistance, low stress, abrasion resistance, acid and alkali resistance, aging resistance and good cold & hot alternation resistance, etc., which has a good effect of bonding and repairing for stone.
[Technical Indicators]
No.

Items

Technical data

1

Appearance

Component A

Colorless transparent viscous liquid

Component B

Colorless or slightly yellow transparent viscous liquid

2

Adhesive Mix ratio(A∶B)

1:1

3

Pot life(25℃,min)

10-15

4

curing time(25℃,h)

1-1.5

5

Tensile Shear Strength (Steel-Steel, MPa)

≥10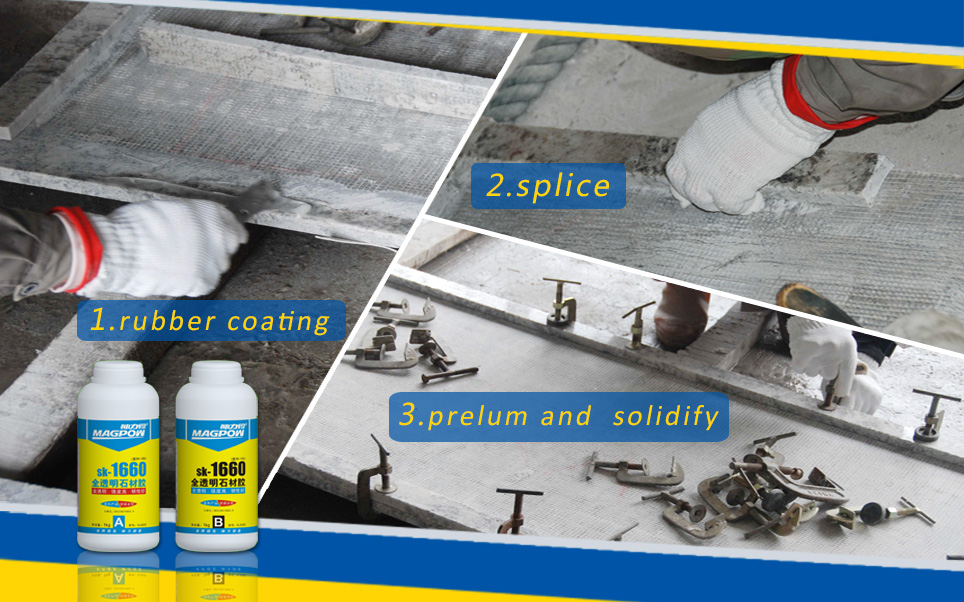 [Application Method]
1. Polish and level the composite plate to certain thickness; remove dust, gravel, oil and other impurities on the surface; and dry it to remove moisture.
2. Mix the adhesive evenly according to the specified proportion and scatter it on the bottom plate; use a adhesive mixing knife to apply adhesive on the stone bonding parts and apply pressure to the bonding parts by moving with hands, to exclude air between plates and to make adhesive fill the plates; there must be appropriate amount of adhesive outflow.
3. Align the upper and lower stones, place them steadily for curing and adopt fixture to apply uniform pressure.
4. At room temperature, the pressure on plates can be released after 2-3 hour curing and the plate will be put into next process after 24 hours. At low temperatures in winter, the stacked plates will be heated evenly for 2-3 hours in 50-60 ℃ curing barn and will be put into next process after being naturally cooled to room temperature.
5. The reference adhesive amount for composite plate is 400-600g/m2; it is recommended to adopt single-sided or double-sided adhesive coating.
6. Add special toner in the adhesive according to the different colors of stones and adjust it into a color similar to the stone; the largest adding volume of toner is 3‰ of adhesive amount.
[Protection Measures]
For different workers, the glue may irritate the skin, but the product meet national standard GB18583-2008, it is environmental friendly and no harm to human body.
When using this glue, please take the protections as below:
Use the glue in the ventilate environment
Wear the protection cloths, gloves and mask
In case the glue contact skin directly, if any, clean with the soap water
Before mix the glue, open the cap of Part B first, wait for the volatility of the free low molecular materials
If any irritation to the skin, better to change to other jobs.
Please feel free to give your inquiry in the form below.