Sheet Composite Adhesive
Brand : MAGPOW
Product origin : China
Delivery time : 25-35 DAYS
Supply capacity : 100 TON/MONTH
[Applicable Scope]
The Sheet Composite Adhesive is mainly used for composite bonding of marble-marble, marble -granite and marble-ceramics.
[Performance Characteristics]
The Sheet Composite Adhesive is the modified epoxy adhesive, which has advantages of high adhesive strength, low stress, and minimal shrinkage after curing and no air bubble after curing, thermal expansion coefficient close to that of Stone, faster curing speed, moderate viscosity, easy brushing, convenient operation, abrasion resistance, aging resistance and good cold & hot alternation resistance.
[Technical Parameters]
NO.

Item

Technical indicators

1

Appearance

Component A is off-white viscous liquid

Component B is slightly yellow viscous liquid

2

Adhesive Mixing Ratio

A∶B = 2∶1

3

Pot Life (25℃,min)

30~60

4

Bending elastic modulus, MPa

≥2000

5

Impact Strength, KJ/m2

≥3.0

6

Tensile-shear Strength (Stainless Steel-Stainless Steel), MPa

≥12

7

Shear Strength ,MPa

Stone-Stone

Standard Condition, 48h

≥8

Water Immersion,168h

≥8

Heat Treatment 80℃,168h

≥8

Freeze-thaw Cycle, 50 times

≥8

Stone-Stainless Steel

Standard Condition, 48h

≥10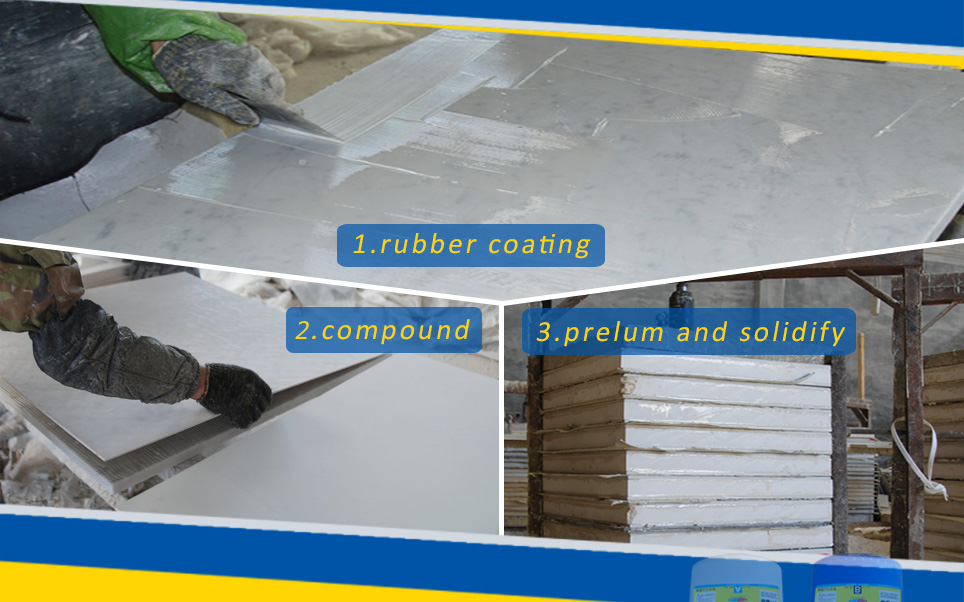 [Application Method]
1. Polish and level the composite plate to certain thickness; remove dust, gravel, oil and other impurities on the surface; and dry it to remove moisture.
2. Mix the adhesive evenly according to the specified proportion and scatter it on the bottom plate; use a adhesive mixing knife to apply adhesive on the stone bonding parts and apply pressure to the bonding parts by moving with hands, to exclude air between plates and to make adhesive fill the plates; there must be appropriate amount of adhesive outflow.
3. Align the upper and lower stones, place them steadily for curing and adopt fixture to apply uniform pressure.
4. At room temperature, the pressure on plates can be released after 2-3 hour curing and the plate will be put into next process after 24 hours. At low temperatures in winter, the stacked plates will be heated evenly for 2-3 hours in 50-60 ℃ curing barn and will be put into next process after being naturally cooled to room temperature.
5. The reference adhesive amount for composite plate is 400-600g/m2; it is recommended to adopt single-sided or double-sided adhesive coating.
6. Add special toner in the adhesive according to the different colors of stones and adjust it into a color similar to the stone; the largest adding volume of toner is 3‰ of adhesive amount.

[Protection Measures]
For different workers, the glue may irritate the skin, but the product meet national standard GB18583-2008, it is environmental friendly and no harm to human body.

When using this glue, please take the protections as below:
Use the glue in the ventilate environment
Wear the protection cloths, gloves and mask
In case the glue contact skin directly, if any, clean with the soap water
Before mix the glue, open the cap of Part B first, wait for the volatility of the free low molecular materials
If any irritation to the skin, better to change to other jobs.
【Package and transportation】
1. The product shall be kept in cool, dry and ventilating warehouse at the temperature around 5-40℃. Its service life is 1 year from its production date and may put into use upon pass examination after its expiry date.
2. the product belongs to general dangerous items. Please keep away from heat source, fire source, sun burning, and rain during its transportation. Please handle it carefully and avoid rolling, bumping, heavy pressing, upside down and sideway placing during its transportation and loading.
3. Packing specification: 90 kg/ set, Plastic bottle package
[Important Notes]
1.For materials to be bond are different, this may affect the glue performance. Please have a try before plenty use.
2.We solemn promise: we produce the products according to our enterprise standard strictly, we will responsible for the product quality, but not responsible for the operation process.
3.To provide the certified products to our customers, we operate strictly according to Quality systemISO9001 and Environmental management system ISO14001. Our technology suggestions in oral, written and experiment is from our honestly, which can not be our guarantee. Please read the instructions carefully before use, also arrange testing to ensure the glue is suitable for your process and applications.
4.We can not control the goods stock & delivery, operate condition and process, we will not responsible for the quality and related lost from the incorrect operations.
5.Any employees from our company can not revise or disregard the terms above.

[Executive Standard]
National Mandatory standard:GB24264-2009
Please feel free to give your inquiry in the form below.