PVC Glue
Brand : MAGPOW
Product origin : China
Delivery time : 25-35 DAYS
Supply capacity : 100 TON/MONTH
Article Number:
MPD156,MPD151,MPD152,MPD153,MPD154,MPD155
Specification:
MPD156(50ml/pc,25pcs/bag,8bags/ctn),MPD151(125ml/pc,25pcs/bag,4bags/ctn),MPD152(1L/tin,12tins/ctn),MPD153(500ml/tin,24tins/ctn),MPD154(250ml/tin,48tins/ctn),MPD155(125ml/tin,48tins/ctn)
Meas:
MPD156(36*31*30cm),MPD151(48.5*42*22.5cm),MPD152(34*23*29.5cm),MPD153(41.8*31.8*27cm),MPD154(41.5*28*24cm),MPD155(41.5*28*18cm)
Feature:
PVC adhesive is a single component solvent glue which the main component is polyvinyl. Specially used in bonding hard PVC, also materials of ABS, AS, polystyrene, organic glass, polycarbonate, etc.
Technical Feature:
Name Of Product

Appearance

Viscosity (25℃, mPa.S)

Solid Content (%)

Peel Strength

(25℃*48h, canvas-canvas N/2.5cm)

PVC Glue

Light yellow or semi-transparent thick liquid

1000-2500

≥15

≥6.5

PVC Glue

(Environmental-3231)

200-600

≥20

≥3.4

PVC Glue

(Environmental-3232)

100-500

≥15

≥6.5
Scope of Application:
Is suitable in the flinty PVC discharge pipe, the sewage pipe (including the UPVC tube and the CPVC tube) and the pipe fitting cementation.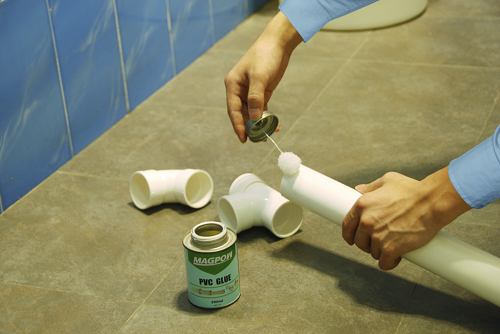 Using Method:
1.Ensure the joint surface to be dry, clean and oil-free.
2.Paste glue on the surface, pressure at one (not allowed to press after cool).
3.Fix place in 5-10 minutes,intensity in 2-3 hours,reach usage intensity after 24 hours.
Warning:
1.The operating environment should be ventilative and should keep away of the fire.
2.Avoid the skin and the eye contact, if touches the skin, clean with soap water, if touches the eye carelessly, uses the massive clear water flushing immediately, go to hospital for serious situation.
3.Close tightly after use avoid evaporate.
4.Do not put into mouth and keep out reach of kids.
Storage and packing:
1.Stock the products in cool and dry place. The shelf life is one year. It is available to use based on passing of the test if being beyond the shelf life.
2.Preserve and transport as flammable products.
Please feel free to give your inquiry in the form below.