All Purpose Adhesive
Brand : MAGPOW
Product origin : China
Delivery time : 25-35 DAYS
Supply capacity : 100 TON/MONTH
Article Number:
MPE101,MPE106,MPE107
Specification:
MPE101(20ml/pc,25pcs/bag,8bags/ctn),MPE106(33ml/pc,25pcs/bag,8bags/ctn),MPE107(50ml/card, 12cards/inner,12inners/ctn)
Meas:
MPE101(29X27X24.5cm),MPE106(35.5X27.5X31.5cm),MPE107(39X37.5X44.5cm)
Feature:
All Purpose Adhesive is single compound clear thick liquid and has efficient features of high first adhesive intensity, small odour, high density, unsolved polystyrene , with characteristic of wide usage, anti-age ,is green product.anti-acid,anti-alkali.
Technical Feature:
| | | | | | |
| --- | --- | --- | --- | --- | --- |
| Commodity | Appearance | Viscosity(25℃,mPa.s) | Solid Content(%) | Shear Strength(Wood—Wood,MPa) | Peel Strength(Canvas—Canvas,N/2.5cm) |
| All purpose adhesive | Transparent thick liquid | 4000~8000 | 45±2 | ≥2 | ≥80 |
Application Scope:
All Purpose Adhesive could be used to bond all kinds of hard and soft material, such as: glass, metal, pottery, PVC, PS, foam, plastic card, natural rubber, wood, leather, synthetic leather, nop, yew, decoration wood line, paper, cardboard, carpet, phenolic aldehyde and epoxy foam, etc.
Using Method:
1.Keep the joint surface clean and dry.
2.Spread the glue evenly on the two surface, cool for 1-10 minutes(base on the actual working environment and loose condition of material),squeeze the alignment .Reach the use intensity after 48 hours.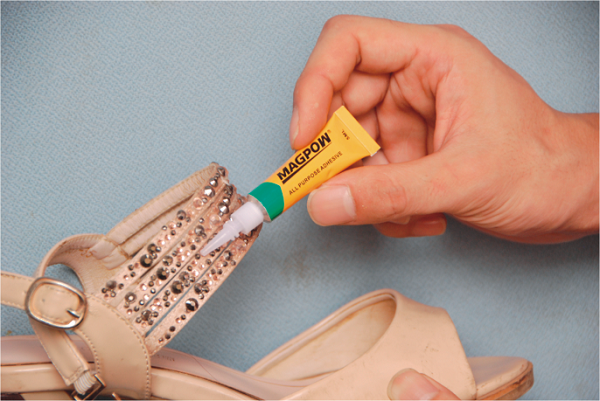 Warning:
1. The operating environment should be ventilative and should keep away of the fire.
2. If the viscosity is too big, dilute it with certain ethylacetate.
3. Avoid the skin and the eye contact, if touches the skin, clean with soap water, if touches the eye carelessly, uses the massive clear water flushing immediately, go to hospital for serious situation.
4. Close tightly after use avoid evaporate.
5. Do not put into mouth and keep out reach of kids.
6. Please make a trial to avoid usage mistakes before application. Our products have been widely used on the market, the quality is reliable. But we do not guarantee that difference will cause under difference using condition, material or technique. So user should use after trail use.
Storage and packing:
1. Stock the all purpose adhesive in cool and dry place. The shelf life is one year. It is available to use based on passing of the test if being beyond the shelf life.
2. Preserve and transport as flammable products.
Please feel free to give your inquiry in the form below.